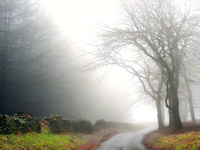 The Goyt Valley is located between Macclesfield and Buxton in the Peak District National Park, England. The valley is close to the Cheshire and Derbyshire county border.
The River Goyt flows through the valley and rises high on Axe Edge Moor near the Cat and Fiddle Public House, (the second highest public house in England) and flows north through Taxal, Whaley Bridge and New Mills before joining with the River Tame near Stockport to form the River Mersey. This website concentrates on the area known as the Upper Goyt Valley, close to the source of the River Goyt.
There are two main reservoirs in the valley, the larger Fernilee holding 4940 million litres of water, and Errwood with a a capacity of 4215 million litres. Both provide drinking water to Stockport and its surrounding areas. Errwood Reservoir has its own sailing club founded in 1968, and a fly fishing club.
Along with fishing and sailing, the valley is a population destination for cycling, horse riding and walking.
The landscape of the valley is varied with a mixture of bleak heather moorland and wooded valley slopes. The Forestry Commission works together with United Utilities and The Peak District National Park Authority to manage the area, and the woods that include oak, rowen, larch and pine. Wildlife to be found in the area includes red deer, bats, badgers, foxes and hedgehogs, with a number of birds including woodpeckers, finches, nuthatches lapwings and birds of prey as well as grouse and canada geese.
The Goyt Valley is a place to enjoy in all seasons, in early summer the thousands of Rhododendrons around the romantic ruins of Errwood Hall provide a sea of colour with sheltered tables in some areas, ideal for a summer picnic. In Autumn the moors turn purple as the heather starts to flower before the leaves on the trees start to turn magnificent shades of oranges, yellows and reds before they drop. In winter the valley is a great place for a walk with extremes of weather from a cold frosty morning to dense fog and heavy snowfall.

Any information on this site is provided as a guide and it is recommended that you check that any details provided are up to date or accurate at the time of your visit. Please follow the countryside code at all times during your visit.
If you have any comments or ideas about the website or your experiences in the Goyt Valley please contact us. No content or photographs to be used without prior permission, if you wish to use any of the photographs for commercial purposes please contact us with full details of your enquiry for a price.
If you would like any assistance with your website, perhaps a new design, or any other digital consultancy advice please contact Meemo Digital Ltd, (click for link).