The Goyt Valley is a popular destination for many outdoor activities including walking, cycling, fishing, sailing and horse riding. Ideas for short walks are detailed below, they can be lengthened by combining routes, or for longer distance walks you could combine a visit to the Goyt Valley with other Peak District destinations, such as Axe Edge Moor and nearby Wildboarclough.
Click on the links below for detailed route descriptions: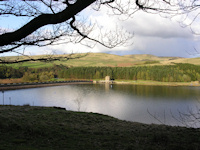 WALK 1 | Errwood Reservoir from Goyts Lane
WALK 2 | Fernilee Reservoir
WALK 3 | Errwood Hall
CYCLE 1 | Goyt Valley Link to external site – www.peakdistrictcycling.co.uk
Easy Access paths are available from Goyts Lane Car Park along the old Cromford and High Peak railway line, and also along the road through the valley, (from the start of May until the end of September the road is closed on Sundays and Bank Holidays from 10:30am – 5:30pm from the street car park to Derbyshire Bridge). Errwood Reservoir has a sailing club established in 1968 complete with its own clubhouse. For more details about the club and details about membership and prices click here to visit the club website.
Day tickets and membership to the Errwood Fly Fishing Club is available, for more details click here for a link to Errwood Fly Fishing Club. Errwood is Fly Fishing only and is stocked with mostly Rainbow Trout, but there are also Brown Trout. There is no fishing permitted on the larger Fernilee Reservoir.
Cycling through the valley is one of the best ways to see the Goyt Valley, the road through the valley from the street to Derbyshire Bridge is a gradual uphill climb. Some of the most challenging and popular hill climbs in the area can be found in and around the Goyt Valley, including the Pym Chair climb from Jenkin Chapel. The roads climb uphill from Buxton and Macclesfield towards the valley before dropping down to the Goyt Valley.
For further details on how to get to the valley see the facilities page.